Pradnya Jadhav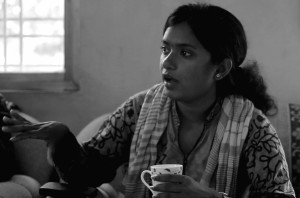 I now begin to feel that there is a fundamental rupture in my understanding of what it means to be a Dalit. I perhaps need to pose questions such as "Should I get excited if I meet an educated Dalit, particularly an English-speaking Dalit, who asserts their Dalit identity and glorifies their achievements?" The next few questions naturally follow: "How does a Dalit look like? How should I know if I came across a Dalit on a crowded street? Are they not capable of getting an education? Why are such farcical representations of Dalits all over the place? And how much do I contribute in dehumanizing the existence of Dalits by reinforcing such  Brahminised notions of being 'Dalit'?"
I look for answers in some memories.
I had read a poem about Jalbu Aaji by Prakash Mogale.  Jalbu Aaji, who was a midwife in a village, raised and educated her children to take up dignified jobs. Jalbu Aaji was touchable only when she was needed to free those women in pain.  She performed her work with honesty and rigour during her entire life. Whenever her educated children asked her to leave that "dirty" work, she would deny and say her work was the only 'constitution' she abided by. Jalbu Aaji lived for eighty years and left this world in peace. You may say, what is there to share about Jalbu Aaji? I draw tremendous motivation from Jalbu Aaji. Didn't she live in every other village? Her legacy is being carried forward by her granddaughters, who are successful doctors. But is she to be seen only as Midwife? An Untouchable? or "Dalit? To me she was a phenomenal woman, who would have contested at each level in her village, surviving in the hostile environment. She does not provide any 'narrative' of violence. She was a strong woman, who led her life holding her head high.
It is Jalbu Aaji who shows me the most profound ways of claiming my 'Dalit' identity; she orients me to critically engage in articulating my identity. Jalbu Aaji is my very own Dalit woman, rest are all foreigners.
How can I ever dare to subject her to the pitiful and repulsive social media politics? It would be irreparable damage to my Dalitness.
Also, do you know Baba bai (please read as बबा बाई)? So, Baba bai belonged to Pardhi community and occasionally worked in local grampanchayat as helper though her appointment was unofficial, or to put it correctly, illegal. Whenever there was any police case in the village, she would be called to police station for enquiry. She lived near Waluj, an industrial area adjacent to Aurangabad. Baba bai was a famous personality in the village who had excellent organising skills. One day, a group of students went to visit Baba bai. They wanted to study the situations of Pardhi community members. Baba bai was their resource person. Baba bai received them happily and showed them her hamlet. They asked if there were any other hamlets which had no pakka houses. Baba bai took them to few such hamlets. The students clicked photos and selfies and felt content. Baba-bai asked them if they wanted to see more. The group agreed and started to walk with her. They walked and walked for an hour or so. They had reached a barren land, empty, dry, and hot. The students asked where the hamlet was. Baba bai said she had hijacked them just to tell she was  going to contest in Panchayat election, that her daughter stood first in the school and that her husband works in the winery as a labourer. Last time, when I met Baba bai, she sang a song, "उधळून गेले जीवन आपुले भीमराय गं, गोर गरिबांची सुधारणा केली माझ्या भिमाराया नं". My bhima improved the lives of us poor.
My search of the 'Dalit' within my own self has always been a matter of constant botheration. I always wonder if there is any point of saturation to one being called as a Dalit, on what parameters this Dalitism is offered to someone, and how one internalizes it. How is the Dalit Identity formed, presented and spoken about in personal, social and political realms? What qualifies and disqualifies me from being a Dalit? After a laborious journey of unlearning, this questioning has started to appear lame; the etymological meaning of the word Dalit does not make any sense to me anymore.
I discover the "Dalit" in myself by knowing about Jalbu Aaji, and Baba Bai..
(To be continued…)
Notes:
"Yuddha Atal Aahe", Dr. Prakash Mogale, Sayan Publications, July 2017
~~~
Pradnya Bhimrao Jadhav is a  student at JNU.