Asha Singh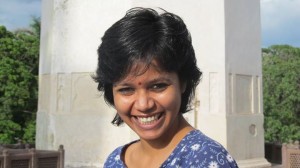 पिता ने लाकर दी एक साइकिल।
'अब अपनी कॉपियाँ-कलम खुद ही ले आया करना बाज़ार से.'
उंघते कस्बे की सबसे आखिरी कॉलोनी में, अकेली सड़क पर,
 साइकिल का कैरियर पकड़ कर सिखाया चलाना।
 जब बेटी साइकिल लेकर सरपट निकल जाती,
 छाती चौड़ी हो जाती पिता की.
 साइकिल वाली ने कस्बे से निकल,
 दिल्ली-बम्बई की राह पकड़ी,
 कर लिया प्रेम, विजातीय से.
 'प्रगतिशील' पिता ने साइकिल दी थी,
 पढाई-लिखाई, रोज़गार की आसानियों के लिए,
 बेटी को साइकिल देना बनेगा ऐतिहासिक 'भूल'.
~
Asha Singh recently submitted her PhD thesis at TISS, Mumbai on Bhojpuri Folksongs and Women. Before that she was a Hindi journalist in Bhopal. She belongs to Bhojpur district in Bihar.