Jenny Rowena
(This article was first published in Malayalam in Madhyamam newspaper on June 4, 2015)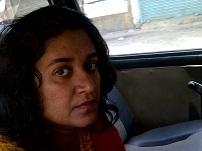 Several discussions about gender these days are as much about communities as they are about women. However, only the marginalized communities are distinctly marked out as patriarchal in feminist conversations. Savarna communities manage to slip out of these discussions. In fact, as modernity was ushered in, the savarna communities transformed themselves into the broad category of the 'Indian' or 'Malayali' and thus they did not have to bear the burden of their communities, or the patriarchy associated with the community.  And such a nationalist logic was never interrogated by savarna feminists. For instance, let us consider the feminist readings of the struggles of subaltern women in Kerala to cover their breasts.
The agitation of the Channar women for the right to cover their breasts started in the 19th C and spread to other marginalized communities. These struggles make up some of the key moments in the anti-caste movements. However savarna feminist readings render that during that time, it was quite common for women not to cover their breasts, and that it was the Christian missionaries who were responsible for this common practice being considered indecent and sinful. As part of this, many stories about subaltern women being forced to wear blouses by the men of their own communities are given. (J Devika, Kulasthreeyum Chandappennum Undaayathengane?)  It is also suggested that Muslim women were forced to wear the head dress in a similar manner. However, when it comes to Namboodiri (Brahmin) women, the narrative changes and the act of wearing a blouse becomes marked as resistance by these women "against the rigid, conventional sanctions and the lower status afforded to them within their households." (J Devika, Kulasthreeyum Chandappennum undaayathengane?)
Such an account that denies the range of arguments and the variety of struggles forwarded by the subaltern women necessarily helps create the image of women incapable of intelligent thought. However, this account is reversed when describing the savarna women's situation in that period. They are not limited to being 'victims' at the mercy of the brute force of the men of their community.  Instead, they are presented as "capable" women who exercise their "agency". This example is merely one of the many that presents the marginalized communities and masculinities within it as more troublesome and violent.
In fact, the politics of the Indian feminist movement itself has to be seen as being casteist. Inside Kerala and outside, most of the feminist outrage and mass mobilizations were focused on issues such as rape, violence against women and sexual harassment in public, such as in public transport. These were issues where they problematized patriarchy in public spaces (and the instances problematized were most often those in which the aggressors belonged to the marginalized communities). Such an approach ended up reinventing the casteist fears of open public spaces and of the threatening 'lower' caste man present there. The legal protections they fought for and won were those that ensured safety for the upper caste woman who ventured outside the family (and her own community).
Instead, had they chosen to create mass mobilizations to fight the casteist control on savarna woman's sexuality, or the caste Hindu system of inheritance which denied property rights for them, or the rampant foeticide in their own communities, or the sexual violence upper caste men perpetrated on lower caste women with impunity as part of their social power, or about the sexual exploitation in lower-caste women's work places, the face of Indian feminism would have been entirely different. While it should have worked to have a voice that engaged with the different power structures in society, feminism ended up creating a conversation that was casteist.
The vibrant debates and discussions on social media and several blogs very often end up reproducing these casteist notions of the politics of gender. Even as women from Muslim, Dalit, and other marginalized groups openly discuss patriarchy in their respective communities, savarna women choose to continue talking about patriarchy in general, shirking discussions about their own communities.
All these in fact, point to a set of historical problems that feminism has to grapple with. The operating logic of feminism is the same as that of the western liberal logic that rejects communities as institutions that curtail freedom (and the circulation of capital). As a part of this, many a times, savarna feminists pose as 'secular' people who have transcended their own caste and communities. However, as many argue, mainstream feminists situate themselves steadfastly in their own powerful communities and often work to strengthen them. As Elizabeth Spellman elucidates in her book Inessential woman: Problems of exclusion in feminist thought, feminism validates a subject position that is located in the dressing sense, food habits, cultural values and preferences of the white middle-class woman. Many women become feminists by re-positioning themselves into such a subject-position. In India too, the experience has not been very different. Feminists like Flavia Agnes who belong to a minority community has talked about how being a feminist entailed conforming to savarna Hindu women's dressing style, food habits, and cultural symbols. The scenario is no different in Kerala too.
While the burden of talking about the community is shifted to the marginalized women, the savarna feminists claim to stand outside their own communities through the exercise of liberal values like 'choice' and 'freedom' even as in the end, this serves to bring other marginalized women under the purview of their savarna communities, and succeeds in strengthening the savarna community.  In such a situation, most marginalized women realize this: using the arguments of feminism do not usher them into a free world without gender-based power play. Instead, what becomes possible for them is a problematic conversion into savarna gender values and equations. Either because they do not feel that such a conversion is necessary, or because this is impossible, many marginalized women assert that "I am not a feminist" and turn away from feminist articulations.
In such a context, we can see that Black feminism, Islamic feminism, Dalit feminism etc have worked to break the certainties of white or savarna feminism.  But even such perspectives are often employed to ascertain the patriarchy of their respective communities and to 'uplift' them into the white/savarna liberal value-system.
Therefore, it is imperative for marginalized women to have a language of their own to talk about their distinct gender-caste-community position that is different from the feminist liberal/savarna logic. Similarly the power exerted by the savarna communities on the marginalized should be identified and gender practices should be clearly located as originating from the caste Hindu system. That is, it should be recognized that the gender relations within marginalized communities are actually shaped by power sources outside them. Only such a perspective will mount a challenge to caste- Hindu power and help us to think more productively about the need for restructuring gender relations within marginalized communities.
~
Jenny Rowena teaches at Miranda House, Delhi.
~~~
This article has been translated by Sruthi Herbert