Swati Kamble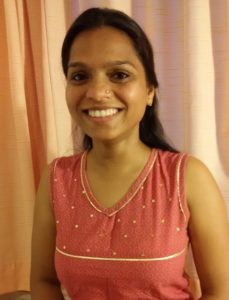 I met Babasaheb for the first time probably in my mother's womb. Making such a lofty claim in naive vanity is not what I wish to do here. I am aware that I am certainly not the only one to have felt such an early connection with Babasaheb. Rather, I wish to emphasize with pride that Babasaheb is passed on to its next generation from the time it is an embryo through the rich oral tradition of my community. For me, growing up was about knowing the varied facets of Babasaheb's personality and through him, knowing myself.
As a child I would often hear that he was a doctor who worked relentlessly to end one of the deadliest ailments of our society. It was enough for me to know that somebody who lived in the same precarious conditions as I did could become a doctor. For, becoming a doctor was my dream too! In my early years, knowing Babasaheb was all about his birth anniversary. 14th April would be a magical day. Early in the morning, in the community, a big stereo sound system would start playing 'soniyachi ugavali sakal, janmas aale bhim bal' (A golden dawn has broken as baby Bhima is born). On this day, father wouldn't have to play tricks to wake us up early. Even though we would have slept late from the previous night's running-around, pasting blue flags on strings to decorate the community in blue, we would wake up early, imagining the golden morning and the birth of baby Bhimrao. In the morning, my attire would be a bright white frock, carefully kept only for three occasions: Babasaheb Jayanti, the Buddha Paurnima and the Mahaparinirvan divas at Chaityabhoomi. We would dance around the common yard of community where the common water tap was. This community of laborers and cotton mill workers housed 56 families, most of them from the Dalit-bahujan background.
While my mother and other women busily washed clothes and filled water from the tap, I would beg my mother to get me ready at the earliest. I would run to the garland maker to get garlands, candles and incense sticks. Young boys of the community would clean the premises and sprinkle water on the ground. The fresh fragrance of watered earth, the songs on the stereo about the auspiciousness of the day, festive clatter of utensils getting hastily filled in the morning rush, the early washing of clothes and the sweet smell of puran poli…
Around 10 a.m. or so, women would gather in white sarees by the pandal and sit down. Due to the lack of space inside the pandal men would stand in a circle around the pandal. After paying homage to the Buddha, Dhamma and Sangha and the five precepts, we would recite a prayer praising Bhimaraj. Then would follow speeches of the old women and men of the community. For years, an old soul of our community, Hira ajji (grandma Hira) would narrate the glorious days when, inspired by Dr. Babasaheb, 'her people' (referring to the community of untouchables, Mahars, about whom the stories would mostly be) decided to revolt against the caste injustices. Hira ajji would also narrate the horrendous stories of discrimination and stigma Dalits faced before Babasaheb revolted against it.  She was proud to tell us that she was among very few girls to have gone to school from our community, in a small village near Karjat. Her family, inspired by Babasaheb's message, wanted their daughters to study too. She would narrate how she was made to sit outside the school. She was also not allowed to drink water from the pot meant for all students. She told us that even though she would get severe beating from the teacher, she still would attempt drinking water from the water pot during the school break and in her mischievous rebelliousness, she would spit into the pot. She would say 'Sitting next to us was polluting for them, may be my spit won't be as polluting'. At that young age her rebelliousness fascinated me as much as the social injustice affected me.
As a little girl I couldn't grasp why my people did not have right to drink water from common wells and in the schools. But little did I know that not much had changed. When there would be Brihanmumbai Municipal Corporation (BMC) water cut-down in the community, my mother and other women would line up all embarrassed in front of the neighbouring apartment building to access water meant for maintaining their garden. The security guard would humiliate them.  I wondered how these buildings had water access and while water taps in my chawl did not.
It was during those speeches that we first heard that mere touch of people from the lower castes was considered polluting. And that generations of my grandparents and parents had faced these discriminatory practices. We were enchanted by the story of Mahad Satyagrah and Kalaram Mandir protest. The songs of Vaman dada, Pralhad Shinde, Vitthal Umap playing on the stereo would narrate the epics. I would experience all the emotions these songs conveyed, wondering what would have been the plight of my people if Babasaheb didn't do what he did. The elders of the community too would emphasize that if it weren't for Babasaheb's untiring efforts, us untouchables would still be enchained in slavery. The gory descriptions of the untouchables' lives only a few generations ago, wearing a long broom around their waist to wipe out their footprints and an earthen pot around their neck to spit in it, so as to not pollute the village premise by their touch made me shudder.
I was yet to fully understand what all this one incredible man had done not only for the downtrodden by introducing progressive law but also for the entire nation while facing the direst consequence. We would later read about the Hindu Code Bill which among other things ensured property rights to Indian women. Babasaheb had to resign from Prime Minister Jawaharlal Nehru's cabinet from his post as Law Minister because of the opposition to the Hindu code bill. We got a sense of the difficulties Babasaheb must have faced in developing an inclusive legal system by framing the constitution in an inherently unequal society.
My grandfather told us his story, about how, inspired by Babasaheb's message, he left whip-lashing himself and begging for alms in the name of a goddess as a 'potraj'. Potraj are devotees of goddesses Ambabai, Mari-aai in Western Maharashtra and Yellama in Southern Maharashtra and Karnataka. This is a derogatory caste practice that continues to this day.  A few untouchable castes are forced to follow this practice. The caste inferiority also enforced upon the untouchables, a god-fearing attitude. Therefore untouchables themselves would take upon worshipping the goddess fearing the wrath and bad omen to their families. Potraj, after devoting his life to the goddess must only perform the role of a devotee and beg for alms for survival. They carry a small wooden temple of the goddess on their head and travel from village to village begging. They grow their hair and if they have matted hair, these should be worshipped. Matted hair is said to be a 'good omen' from the goddess. It is said that goddess herself resides in them and therefore this hair must not be cut, but worshipped.  This is an inhuman and superstitious caste practice that kept many untouchables deprived of education and dignified occupation.
My grandfather told me that as a young man, he walked from his village in Satara pulling out his long over-grown matted hair, strand by strand, symbolizing the renunciation of the degrading religious practice that kept him enslaved. He was walking to attend a meeting of Dr. Babasaheb. My grandfather became a staunch Ambedkarite, and he did not worship any Hindu god ever since. These individual stories of courage to claim dignity and status as human beings were told remembering Babasaheb, whose thoughts had sown the seeds of change. What I learnt growing up is that the discrimination and stigma still remained. However, the change was that my community did not accept the discrimination as their fate but spoke out against the injustice. Even when it led to horrific consequences! Burning of Dalit huts, and instances of maligning Babasaheb's statues (mostly around 14th April and 6th December) were common occurrences that one would read about in newspapers.
For me, consciousness that caste is the ailment Babasaheb wanted to annihilate would sprout through personal experiences of the disease affecting my life. Initially, it would spring up only rarely, as we lived in a ghetto mostly populated by the Dalit bahujan. The discrimination amongst Dalit bahujan was more subtle. The Matang community people were named 'batage' (a derogatory term for Christian converts) by the Mahars. The 'progressive' Mahars who had stopped eating 'motyach' (beef) looked down upon the Matang community who ate beef.  There were regional disparities and stereotypes too to make the matters even more complex.  In the village during summer vacation, we would be allowed to play with the kids from Mali caste but if we crossed the street to go to play in what was called as 'Mangachi aal' (Ghetto of Matang community) my grandmother would scold us in the evening.
Parents of school friends referred to the locality I lived in as 'Maharanchi chaal' (Mahar community/chawl). One 'progressive' mother of a friend from Charmkar (Cobbler) community which is also an untouchable caste, boastfully said, 'We don't believe in caste, my daughter eats from Swati's (my) lunchbox'. 'Scheduled Caste' students would be asked to stand up in the classroom whenever an enquiry about scholarships came, to know how many of us there were eligible for the scholarship. Only Mahar and Matang students would stand up in the classroom forthright while students from other scheduled castes would hesitate. Even teachers called out only these two caste names. Until my college years I thought Mahar and Matang communities are the only scheduled castes communities. We had a view on which of the school teachers were from 'our caste'. These teachers did not reveal their caste identity. Only a year ago when I revisited my school, a teacher could not hold back and told me how a group of teachers from lower caste background kept their caste identity concealed from students, fearing they would face problems if they favoured students from lower caste. These teachers would sometimes give even harsher treatment to the lower caste students. He said to me, 'You see, our job was to shape up your young minds, a teacher doesn't have a caste…' I thought, in a society where everything is defined by this nonsensical hierarchy, how could teachers be untouched by it?
The awareness of the Dalit legacy, the movement and the literature, would follow only during my college days. I became part of the Bahujan Student Network that was started by Bahujan students studying social work in TISS and Nirmala Niketan in the early 2000's. Here I also got to know that the ailment of caste wasn't restricted to Maharashtra alone. Gradually, I also got to know caste had travelled the seven seas and it wasn't restricted to India alone. Caste had travelled the globe and its discriminatory practices still guide people's life decisions, such as marriage and social intermingling even in countries other than India!
College years of social work education gave us Bahujan students a platform to form a group where we discussed Babasaheb thoroughly. Social movements like Campaign for Human Rights lead by Late Adv. Eknath Awad showed the thriving nature of movement for dignity. Exposure to the relentless struggle these organizations waged shaped me into a Dalit women's rights activist.  During the rural camps as a social work student and later during my Masters-level research on violence against Dalit women participating in politics at local self-government, I got the opportunity to interact with many grassroots activists. In speaking to them, one thing that became very evident was how Dr. Babasaheb's legacy and message was thriving in their day-to-day actions. For instance, sending both daughters and sons to English medium school because Dr. Ambedkar told us, 'Educate, Agitate, Organize'. A lot of women who contested election and became village councilors faced atrocities and discrimination. When I interviewed them to know what kept them thriving despite the odds, they would say it was Babasaheb's message that we must live a life of dignity. They would say, "We do not want to live hundred days being a feeble goat, we would rather live one day like a tiger". Here I was knowing a Babasaheb who had reached the homes of the lower castes and he was inspiring them to struggle for dignity.
Recently I was in India for my research data collection, for the topic caste and gender inequalities in policy processes in India. I was interviewing a minister from privileged caste background in Maharashtra. During a conversation, he told me, "See, I feel very sad that Dr. Babasaheb's legacy is not carried forward. Unfortunately, the Dalit leadership has completely failed the Dalit movement. We worship Dr Ambedkar rightfully for his great leadership but then why aren't there hundred Amebdkars created by now?" To this remark of his, I was very tempted to pose a question to him, whether there have been hundred new Gandhis, Nehrus and Patels created in the Indian society by now. But if I did so, I would have impulsively accepted the fact that there aren't hundred Ambedkars in our society. However, the fact is, there are thousand, if not millions of Ambedkers in making in my community. And they are being shaped despite the odds. In all audacity I dare say I am an Ambedkar in making. To all my brethren that strive to get educated from the remote rural villages to the slums of the cities I say you are all Ambedkars in making. Don't let anybody tell you otherwise! When a domestic worker mother and a landless labourer work hard to get her sons and daughters to a school, they are shaping an Ambedkar. When I hear news from Wardha that my brother Anoop's students are getting admitted in institutes like TISS and IIT and cracking exams of UPSC and MPSC with flying colors I see those thousands of Ambedkars being shaped.  I have grown up also with the nostalgia of the older generation often saying that no one can be like Ambedkar, that we have been orphaned after his death! Babasaheb lived and died for the welfare and uplift of the masses. And it would be the greatest tribute to him to create thousands like him. And therefore, in conclusion I say Babasaheb means to me a dream that is waking up with thousands of us thriving towards becoming the essence of him. I dare say 'I am Ambedkar.'  Jai Bhim!
~
Swati Kamble is a Dalit women's rights activist, presently doing a PhD in Socio-economics at the University of Geneva on caste and gender inequalities in policy processes in India. 
~~~