Pragya Chouhan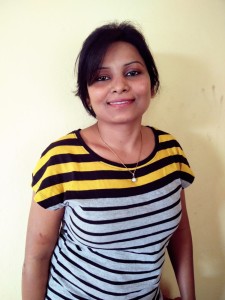 Babasaheb Ambedkar means many things for us. As an Ambedkarite Buddhist woman, I share what Babasaheb means to me.
For me, Babasaheb is a symbol of my existence. A philosopher and political leader who helped me define a dignified life which I am able to live now with the constitutional rights of a citizen. To write anything about this great icon will be something like holding up a candle to the sun. But I try to write this down from my personal experience of being brought up in an Ambedarite Buddhist family and the perceptions I have gathered from my childhood onwards.
Many salutes to this man who has broken all barriers and worked for achieving basic human rights for Dalits who were broken by the caste based inequalities prevailing in Indian society! He fought for the community at a time when the social and political conditions were totally against him. Not only that, he also achieved much academically, and in intellectual pursuits in his rather short life. I admire him for his intellect, political conviction and his determination to fight for the community.
I was greatly inspired by Babasaheb's ideology of paying back to the society. There is a legacy behind this. My maternal grandfather, N.L Khobragade, is an Ambedkarite social and political activist. He embraced Buddhism along with Babasaheb in Nagpur in 1956. As my parents were employed at different places, the four of us siblings spent our childhood days with our grandparents. My grandparents never let us feel alone and took great care of our education and upbringing. I was exposed to the constant struggles that my grandfather used to wage, like a true Ambedkarite, against caste. He dedicated his life for the community.
A bitter experience from my childhood opened my eyes towards the casteist violence unleashed by brahminism in our daily life. My grandpa is a writer. He had published one book in Hindi, Bharat Ki Vikrat Samaj Vyavastha, which was a great success, winning many awards. But the caste Hindus did not like it and used to abuse us on daily basis. One night, our house was surrounded by a group of people and gundas abusing and shouting and throwing stones. We were trapped inside our own home! They cut off our cable and electricity connection. One of our neighbours, a well-wisher, entered through the backdoor and informed us that the mob had brought kerosene and petrol to burn down our house. Somehow, my uncle managed to escape and get the help of the police. My grandpa had to go into hiding and was jailed later. For many months our house and all of us were under police protection. The state banned grandpa's book. We fought the case for seven years and eventually came out victorious. This incident gave me the strength and courage to fight against the caste hindu mind-set. I promised myself to work for the welfare of my community people.
The poor financial condition of my family pushed me to seek a job in the software corporate sector. My professional environment doesn't encourage social and political involvement… However, aware of my stake in the Ambedkarite movement, I do participate in our social activities.
In the last eight years of my professional life, I worked for top-level multinational companies. I have begun my journey from the junior-most level and am now an assistant manager. I aspire to achieve more and support our people. We need to ensure the representation of our people in every field and profession so that we can be socially, politically and financially strong and support each other.
From the age of seven or eight, I started attending Ambedkarite gatherings and political rallies, participated in protest demonstrations with my grandpa. It was very much part of my own upbringing as a child. All these experiences of my childhood and adolescent days are deeply rooted in my mind. A child's mind is affected greatly by their upbringing. Family is the first school for kids, what we feed them at that age will remain there with them for the rest of the life. My humble request to all the parents and elders is to give their younger generation an opportunity to get exposure to the thoughts and writings of Babasaheb Ambedkar. Nourish their roots by making them aware of their history and politically organize them to fight inequalities in society. We need to start creating children with strong minds and political conviction deeply rooted in Ambedkarite ideology envisaging social change through the annihilation of caste.
Secondly, what I feel is, there should also be a focus on building our own cultural capital. We are scattered in small groups and everyone is caught up in their individualistic philosophy. Some says neela jandda, and others panchsheel jandda. Some go for the white colour, others for black and now some others have the blue colour. There is no one common way, but multiple ways to seek Babasaheb. I personally feel that there is a need for our Hindu brothers and sisters to come out of the bondage of caste and embrace Buddhism and follow the path shown by Babasaheb. Most of us follow Babasaheb on the basis of our convenience. We give lectures, but don't apply his ideas in our daily life. There is a need to bring Babasaheb to our own family. We do a lot of worshiping, but at the same time, we need to apply his ideas in our life and contribute to the welfare of the community by paying back to the society. The emotional component of our attachment needs to be translated into pragmatic possibilities of constituting a strong political collective. Make our young ones and ourselves so strong that no external force can diminish the worth of our existence. We all need to come forward to help and support each other for imagining a strong politically conscious community capable of bringing social change and progress in the society.
My idea of Babasaheb is to bring everybody to the forefront of this movement for social change. To build cultural and political capital of our own. It is about knowing, reading and debating Babasaheb's ideas and adapting his ideas to one's own socio-cultural context. Sowing seeds of a strong, healthy and knowledgeable mind is the need of the hour. Only if the roots are strong, can a giant tree withstand adverse conditions.
~
Pragya Chouhan is  an IT professional working for a multinational IT company in Hyderabad. She belongs to a small town called Balaghat, in Madhya Pradesh. She did her masters in Computer Science and is currently pursuing another masters in Psychology.
~~~
This is the first essay in our 'What Babasaheb Ambedkar Means to Me' series.